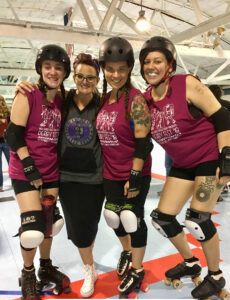 Our February featured skater is persistent and always gives it her all on the track.
We're excited to start this season with Artichoke Hold!
What made you start derby?
I was still a somewhat recent NJ transplant, I had young kids at home, and was finding it hard to get out and make friends. I needed a way to connect with people and get out of the house.
What was the hardest part of passing your minimum skills test?
Staying positive even though it took me much, much longer than most of my league-mates.
What was your first bout like?
I only went out for one jam, and when we were clearing the track in between jams, I accidentally skated right into a ref. It was definitely embarrassing, but also exhilarating just to be sitting on the bench with my team.
How long have you been playing derby?
I started out with Jerzey Derby Brigade, which has since dissolved. I've been involved for 5 years, but it took me a long time to pass minimum skills. Last year was the first year I really saw any game play.
What is your favorite part of derby?
The people. They've become an extended family for me and my kids. They're the people who show up to celebrate the big moments and support you through the rough times in your life. I was heartbroken when my first team was abruptly dissolved last year, but was so fortunate to find a new home with DJRD. Everyone has been so welcoming and kind.
What is your least favorite part?
Besides the stinky gear? Sometimes it can be tough to motivate myself to get to practice after a long day of work, getting dinner on the table for my kids, and helping with homework. But once I gear up and skate a few laps, I'm always glad I showed up.
What is your derby goal for the next year?
To trust my instincts and be more assertive and decisive on the track.
What do you do for a living?
I'm one of the many librarians involved in derby,
How old are you?
40
What are your interests outside of derby?
I love being outdoors and camping, hiking or kayaking with my kids. I also love anything food related- cooking, gardening, watching food documentaries, visiting breweries and restaurants…I'm the type who will like every single food pic you post on social media.