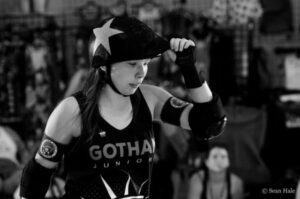 Don't let her age fool you- Baditude is a slippery jammer who can

skate

circles around even the most experienced players!
This

March

marks her first time on the DJRD roster and we are so happy to have her!
Full

Skater

Name & Number:
Baditude #8
What made you start derby?
I just moved to California and my mom and I were looking for sports for me to play and there was a local roller derby team and I wasn't interested in it at all and my mom just told me to try it out and see if I liked and i haven't stopped playing since.
What was the hardest part of passing your minimum skills test?
The hardest part was my 25 in 5. When I first skated I was playing on half the size of a real track so when I switch teams and had to do it, it was a lot harder.
What was your first bout like?
My first bout was very interesting, I was the smallest on the team and I had a habit of not pulling my fingers in when I fell and I got them ran over, there still bent to this day. we were playing a much better team and it was the first time I saw a actual size track and I was super excited and scared to get knocked over.
How long have you been playing derby?
I've been playing roller derby since 2012 and I first started on the West Coast and as soon as I got good enough with my skills I tryout out for Santa Cruz and made the team. Than I moved back to New Jersey and skated on Gotham, than I aged out and now I'm playing on Dirty Jersey.
What is your favorite part of derby?
My favorite part about derby is that you can be whatever you want and you'll fit in.
What is your least favorite part?
My least favorite part about derby is when I transfer teams or play on a different it's hard for me to talk because I'm shy.
What is your derby goal for the next year?
My goal for next year is to be able to take bigger hits from people and not get knocked over and be able to stand my ground.
What do you do for a living?
I am currently in high school, I'm in my senior. I'm going to be going to Middlesex Community College this coming fall.
How old are you?
I am 18 years old.
What are your interests outside of derby?
I'm usually out side playing softball or I work on my car.