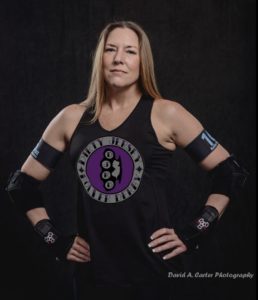 Hard-hitting, tough, fierce – Anita Guinness is a jammer's worst nightmare on the track. But off the track, there's no one friendlier than this month's featured skater. A great addition to the team, we're lucky to have her!
What made you start derby?
I was sharing a recruitment post from my cousin, Lucy Block, who was skating with Red Bank Roller Vixens at the time. A girlfriend had commented on the post that she couldn't even skate. Lucy's response of course was, "We will teach you!", which prompted my girlfriend to private message me about derby. Basically she said, "If you do it, I'll do it." I rarely turn away from a challenge so we both joined.
What was the hardest part of passing your minimum skills test?
I had not skated in 33 years so standing on skates again and feeling confident was the first hurdle. After the first couple weeks I felt like I had never stopped skating, but I was really looking forward to skating like the vets and still appreciate the challenge of improving my skills. The hardest part was effective plow stops, and it's still a skill I haven't mastered yet.
What was your first bout like?
Before the whistle blew I felt the urge to run to the bathroom and lose control of my bodily functions. Once I took the track those feelings passed but I had this serious sense of inadequacy. It was exciting yet at the same time I had no clue what I was doing. It took about two years and then one day it just clicked and everything felt natural.
How long have you been playing derby?
This is my sixth year.
What is your favorite part of derby?
Obviously the camaraderie and the extended family I gained is crucial to the enjoyment of the sport, but my favorite part is the feeling of success when I stop an opposing player and frustrate them, rendering them ineffective until the whistle blows and then I high-five and fist bump my teammates on a jam well done while skating off the track.
What is your least favorite part?
Drama. And cliques. No room for that nonsense.
What is your derby goal for the next year?
Ha! See the question relating to minimum skills – I want to plow stop like a champ. All the cool kids are doing it.
What do you do for a living?
Office manager for a family-run heavy construction company.
How old are you?
I am a member of the derby over 50 club. I just celebrated my 51st birthday in March.
What are your interests outside of derby?
My children and my boyfriend are my life and I am a happy woman as long as I have them surrounding me. In my leisure time I enjoy working around my house, cooking with Joe, traveling, attending live music events, water sports, and crabbing off my dock. Eating crab and steamers is an undisputed favorite activity of mine.