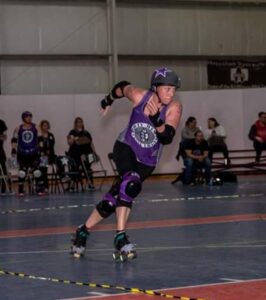 This month's featured skater is a real team player. Whether she's blocking, jamming,
or clearing the way for her own jammer, Stoli is always ready to jump in and get the job done!
What made you start derby?
My favorite pastime had become laying on my couch while drinking beer and eating pizza – I had gained like 80lbs of depression…my dear friend (who's nickname is coincidentally Purple!) called my fat ass out and introduced me to the roller derby and I was immediately in love with the sport and all of the people involved. With the support of this amazing community I learned to skate, dropped the depression and the weight #rollerderbysavedmysoul
What was the hardest part of passing your minimum skills test?
Well, that it took me 3x through fresh meat my first year! (Plow stops are still my enemy, but not so much as hockey stops)
What was your first bout like?
I was straight up Bambi skating on slippery marble tile to a sold out crowd in Asbury Park Convention Hall…all I could think is, I just need to survive the next 2 hours
How long have you been playing derby?
It's my 9th season, although it took my entire 1st season to just learn how to remain on my wheels instead of on my butt
What is your favorite part of derby?
I love how inclusive it is, come as you are environment – it's the only judgement free zone that I know of that includes every type flavor of human on the planet
What is your least favorite part?
Well, that I started when I was already older, and that my body can't do this forever
What is your derby goal for the next year?
Keep on smiling – we're not professionals, we pay to play… when it stops being fun I'm out #fff
What do you do for a living?
I'm very fortunate to work at the best company at the Jersey Shore – Jersey Mike's
How old are you?
48 (had to do the math, I always forget)
What are your interests outside of derby?
My family, my bike and the beach